The Furnace
.
.
For a video clip of the furnace in action melting cast iron in an A8 crucible click here >VIDEO<
.
For another clip showing the furnace melting around 60lbs. of cast iron in an A20 crucible, the video the pictures below were taken from click here >VIDEO<
.
.
A two man job to lift and pour an A20 crucible of cast iron!
.
Click on any of the pictures for a larger view
.
.
The Artful Bodger's Iron Casting Waste Oil Furnace
.
One day in the distant future, I might (HA!) be able to afford a bigger house with an enormous workshop, loads of working space away from the house that I can call my own, no kids, dogs or nagging women allowed.
I will have an enormous waste oil furnace, more tools and equipment than I know what to do with, be able to make as much noise, smells, be as messy as I want, junk will be EVERYWHERE! It will be BODGER'S HEAVEN!!........ Dream on!
.
.
An A8 crucible pour
.
.
Meanwhile back in reality, this furnace has more
than enough capacity to suit my needs. An A20 crucible, 60(ish)lbs. of cast iron is pushing it to it's limits for the size I've built it in, but it does the job well, as the pictures at the top of the page show. Building it bigger is no problem at all, but how big do you want it for your home foundry? That's an awful lot of white hot stuff to handle!
With aluminium, if the pot fits in the furnace, the metal in it will melt. With a 10"dia bore and 16" internal height, that gives it a very respectable capacity!
But best of all, it's almost FREE to do this, NO fuel costs, only a few pennies for the blower electricity.
.
.
more of the A8
.
I have built the furnace with a 2"deep well in the bottom, this allows a lot of metals to be melted directly in the furnace, no crucible! (unfortunatly not cast iron).
This metal is tapped from the spout into a homemade ladle, and the furnace bottom is easily changed to avoid contamination. All furnace bottoms get a build up of spilt metal and slag eventually no matter how careful you are, it's great to be able to change it quickly and easily for next to nothing.
.
.
Update
**One of the problems with using scrap metal is it doesn't usually come in a convenient size to fit in a crucible, one of the best sources of good quality scrap alli. is from car wheels, however getting them into a crucible can be good fun!
Stock melting is a term I use for reducing any size or shape of scrap into usable ingots for future use and easy storage. It also "cleans" the metal of paint, grease, corrosion etc. which makes life a lot easier when you want to pour that important casting!
.
.
The picture on the left shows 5 wheel rims from a burnt out car, and some thin extruded alli. from an old green house.
I fed the extruded alli. down through the exhaust hole into one of my home cast 2 pint cast iron crucibles, it took about a minute or so to fill the crucible ready to skim and pour, it was melting as fast as I could feed it in!!
The picture on the right shows how to deal with something a little bigger! Allow the furnace to heat up first and it will run with the lid open to melt larger items.
.
Thanks to the well, the metal simply melts straight into the furnace where it is ladled out or tapped from the spout.
Alternativly it can be allowed to run from the open tap hole into suitable ingot moulds.
.
.
One of my great ideas that didn't quite work out!! was to use food tins as "one time" ingot moulds, the alli. was coming out just a little hot and melted through the can!
I knocked an 8mm hole through the clay bod in the tap hole to give a controlled flow rate, the 8mm rod pushed back into the hole slowed the flow rate to a drip to allow me to change the moulds over.
The picture on the right shows the furnace running about as low as it will run once it's been going for a while, a lack of heat "ain't" a problem around here!
.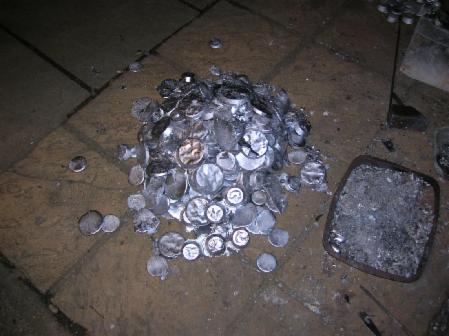 .
Over forty kilos of good quality aluminium ingots melted directly into the furnace and straight into the ingot moulds, clean and ready to use!
The metal cost £0.00, the fuel cost £0.00, crucible cost £0.00, just a little electricity for the blower!**(end of update)
.
.
With the furnace on wheels, it's easy to move around, and neat and tidy to store away.I've put it all together using bits and pieces I had laying around, and I expect anybody building one for themselves to do the same. The only thing I spent any money on was the refractory lining, it really is not worth the trouble of skimping on this, if you're building something that gets this hot, do it right and make it to last a while!
.
.
.
yet even more of the A8
.
I LIKE SIMPLE! I'm a very simple person so just about anything I make reflects this! I haven't seen a simpler oil burning system, certainly not one that's capable of the performance of this one. The whole furnace is easy to put together by someone with basic metalworking skills and tools, no complicated machining is required at all.
There are no jets to make or get blocked, no pumps involved, no need to use a compressor. It really is incredibly simple!
I've seen some furnace designs that are major feats of engineering, they are works of art to be admired! However casting metal is a very simple process, why complicate it? Simple very rarely goes wrong, but when it does, it's...... well...... simple to fix!
..
Unlike some types of furnace where you need to have a number of castings to pour to justify the expense and trouble to light them. With waste oil, one small casting is always viable to pour, IF YOU NEED IT, CAST IT! With this design it doesn't matter if it's aluminium or cast iron. Likewise, if you have a lot to pour, just keep it burning until the jobs all done!
Melt as many different types of metals as you want in one session, keeping it running all day, if it burns £0.00 of fuel an hour, then for 10 hours... hmmmm... lets see, 10x£0.00= Hey it's still £0.00! add that to the cost of the home made crucibles and IT DON'T GET A LOT CHEAPER THAN THIS!
.
.
Can you afford NOT to run a waste oil furnace!